Stepping you outside the usual list of places to visit in France this collection of destinations showcases some not so common towns and cities across the country that rival many of the tourist hubs.
Each one of these five destinations in France have a wonderfully unique element to them, whether it's the wine, French sweet treats, the landscape, or the mustard! Each place could easily be considered on a list of the best places to visit in France, plus you'll be moving a little outside the tourist pack as you go too. Perfect. Most of these places can be reached from popular airports around the UK. If you need to park your car at the airport, compare the prices via https://www.cheapairportparking.co.uk/.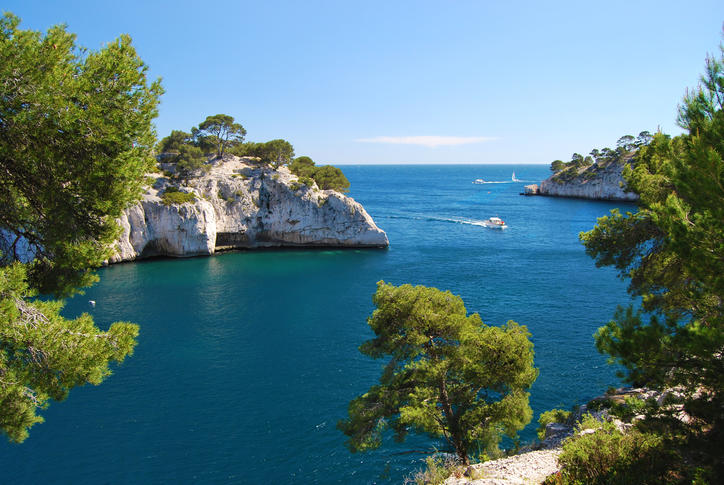 Aix en Provence
Aix en Provence is a quaint university city that steps you back in time and slows you down in pace. As a top place to visit in France life is all about good wine (largely of the rosé kind), good food, beautiful impressionist and renaissance art and majestic mountain walks here.
Set in the Provence-Alpes-Côte d'Azur region of southern France Aix en Provence is shouldered by the radiant white limestone Sainte-Victoire mountain. The mountain ranges' grand presence on the vista connects you with your natural surroundings wherever you are in Aix and a hike up to the ancient monastery with views out over turquoise rivers, lavender fields and rolling meadows makes this spot one of the best places to visit in France.
As the hometown of the great Post-Impressionist painter Cézanne there are plenty of art galleries to peruse, including Paul Cézanne's very own studio. If you're looking to indulge in all thing quintessentially Aix en Provence while here too then a taste of the region's famous Calissons will be in order. Calissons are a divine traditional French candy made from smooth candied fruit and almonds, topped with a layer of royal icing. Yum.
Cassis
Cassis should be set in stone in your itinerary when visiting the south of France. Tucked between grand cliffs of brilliant orange that contrast against the deep blue Mediterranean waters, Cassis is a visual feast to be devoured. The beach invites sunbathers and swimmers to relax for hours on end, the surrounding coves offer exploration for the adventurer and the local catch of the day leaves seafood lovers well pleased.
With paved narrow streets, cute geranium clad balconies and a general sense of 'village life' Cassis is the perfect place to while away a holiday in Cote d'Azur. As a top tip, try to book an apartment a few streets back from the port and don't be shy to jump aboard a boat for a tour of the surrounding bays, each is more stunning than the last.
Dijon
As the capital city of Burgundy Dijon is serious about a few things, namely wine, cheese and of course dijon mustard. If you're looking for an experience of true French gastronomy when researching places in France to visit then Dijon is set to please.
Definitely get yourself on a wine tour when visiting Dijon, their range of white and red pinots are admired across the globe. The markets also offer an abundance of delicious local produce to sample, along with a truly authentic French experience. The best produce market in Dijon is Les Halles, where fresh flowers, food and Dijon mustard can be found aplenty.
Beyond the food and wine, Dijon is also a medieval and renaissance treasure chest of architecture. The wide cobbled streets are a reminder of the old hay wagons that used to wind their way through the town and the plethora of cathedrals, palaces and grand old estates will impress even the most discerning history buff. Don't miss a visit to the 13th century Notre-Dame Cathedral.
Grenoble
As a gateway to the French Alps Grenoble is perhaps known for being more of a winter destination. When the alps are dusted with snow and ready for riding you can jump on a bus from Grenoble that takes you directly to the resorts, making it a perfect location for your next ski trip in France.
But summertime begs you not to shy away from Grenoble too, making it sit easily on a list of the best places to visit in France. Nestled into the Isère Valley the surrounding picturesque mountains of Grenoble are beautifully green in the warmer months. This coupled with the powerful river Drac that cuts through the city provide for an abundance of nature to enjoy in both summer and winter. See here for some more insider tips to the Rhône Alps to maximise your stay in Grenoble too.
Beyond the nature Grenoble is also drenched in a rich history that spans back over 2,000 years. Most museums are free admission but you really must take the cable car or "Les Bulles" across the Drac river and up to the summit of La Bastille hill to the 18th-century fortress where you're immediately transported back in time. Plus you get to soak up the surrounding mountain view and city scape at its best.
Ile d'Oleron
Perhaps not the first place that comes to mind when pondering on places to visit in France, Ile d'Oleron is the second largest island in France behind Corsica (one of our top Easter destinations), but a little lesser known, which only works to its favour.
Sitting just off the coast of La Rochelle on the west coast of France you can reach the island by bus, making it much cheaper to reach than other island destinations.
With an endless matrix of bike paths, cute villages, your pick of surf beaches or long calm white sandy shores, the island is a perfect holiday destination for both those looking to relax or seeking a little adventure.
With three main ports the island is also known for its fishing trade and the seafood here is famously good. The unique delicacy of the island is their Marennes-Oléron oyster, be sure to sample.
With this list of a few slightly different places to visit in France, do you have a few more destination wish list?